The San Diego Bay Parade of Lights presented by the Port of San Diego promises to excite and delight viewers once again with a dazzling display of vessels decked out in festive lights. The popular annual holiday tradition takes place Sunday, December 11 and Sunday, December 18, 2016.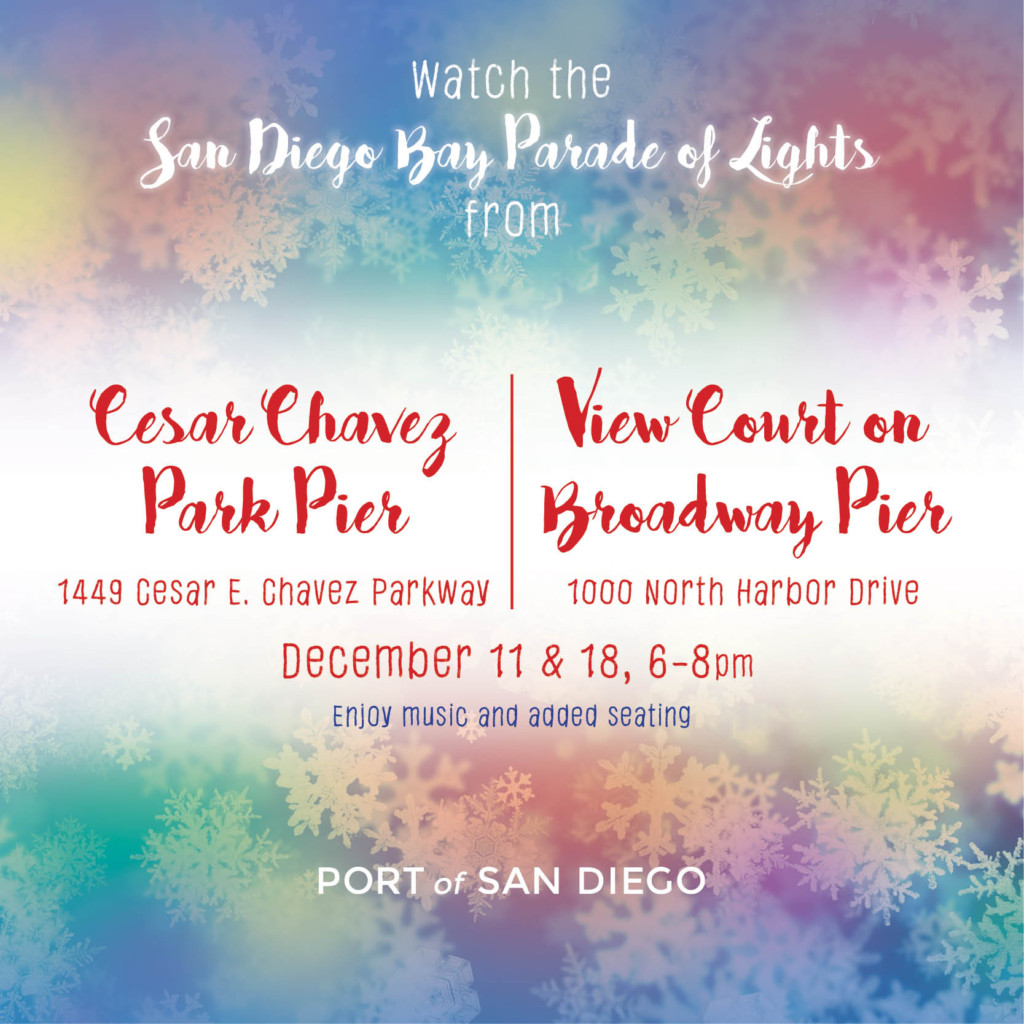 The parade starts off at Shelter Island at 5 p.m. both nights. Vessels will proceed to Harbor Island, the North Embarcadero area, Seaport Village and south to the Ferry Landing on Coronado. The entire route takes about two hours.
This year marks the parade's 45th anniversary and vessels are anticipated to be decorated to fit this year's theme: "It Began with a Roar – San Diego Zoo Celebrates 100 Years."
The Port of San Diego will provide free, public viewing areas on Broadway Pier, 1000 North Harbor Drive, San Diego and Cesar Chavez Park Pier, located at Cesar Chavez Park, 1449 Cesar E. Chavez Parkway, San Diego.
"The Port of San Diego is proud to be the presenting sponsor of the San Diego Bay Parade of Lights," said Marshall Merrifield, Chairman of the Board of Port Commissioners. "This event brings so much enjoyment to our residents and visitors and showcases San Diego Bay in a way that is truly magical. The Port thanks all of its tenants and the participating boaters who make this event possible year after year."
On Broadway Pier, the Port will provide free bleacher seating, music and food available for purchase from Quality Coast Café and the Sweet Treats food truck beginning at 5:30 p.m. The Harbor Police will also have its Police Communications Command Center Van on display at Broadway Pier. Please note that there is no parking allowed on Broadway Pier and parking along the waterfront fills up very early in the day. Attendees to the event are encouraged to utilize the San Diego Trolley. Trolley stations with parking and service to the North Embarcadero are located in Fashion Valley and Old Town. For more information on the San Diego Trolley routes, go to www.sdmts.com.
At Cesar Chavez Pier, free hot cocoa and cookies will be available on the pier from 6 to 8 p.m. There is some seating available, as the Port recently added picnic tables and benches to the pier. However, attendees should plan on bringing a beach chair since seating may fill up quickly.
The San Diego Bay Parade of Lights can be viewed almost anywhere along the north and central parts of San Diego Bay. Ideal viewing areas include Shelter Island Park, Harbor Island Park, Spanish Landing Park, Embarcadero Marina Parks North and South and Coronado Tidelands Park.
For more information on the San Diego Bay Parade of Lights, presented by the Port of San Diego, please visit www.sdparadeoflights.org.